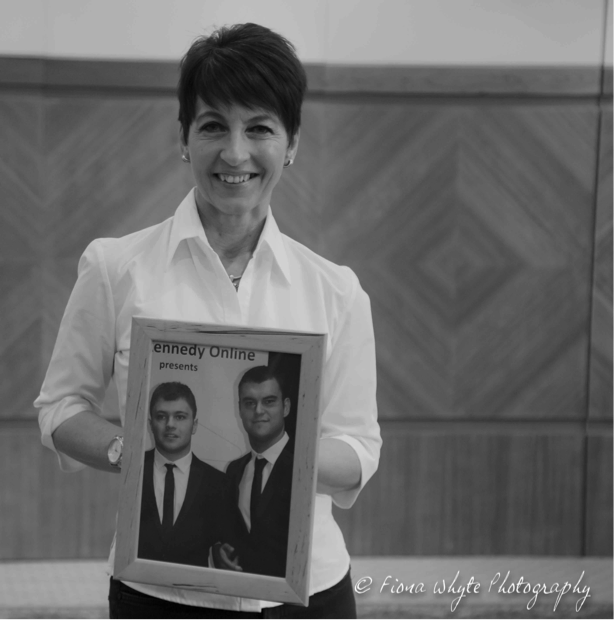 Talking to Anna Kennedy about the positive side of Autism
"There is so much negativity out there. We know the negative part because obviously we live it every day." We want to create opportunities, possibilities and a platform to showcase their creativity' says Anna. 
We meet with Anna Kennedy, a mother of 2 boys with autism, Patrick and Angelo. Anna is a prominent advocate in the autistic community, promoting autism awareness and showing the positive side. 
'Autism's Got Talent' upcoming event 
May 7th will see the 5th annual 'Autism's Got Talent' where 23 adults and children will perform in front of an audience of over 650 spectators.  Singers, dancers, drummers, violinists, magicians and more from all over the UK and as far as Croatia, Sweden, Canada and the United States will get the chance to shine in the Mermaid Theatre in London.  Autism's Got Talent is done a little differently…everyone is a winner! 
Anna didn't want there to be a single nominated winner, "it's not about that, because I don't want to add further anxiety to the performers.  It is about showcasing their creative side."  Something as unique as this was unheard of many years ago, but it's ever increasing popularity brings out the best of children with autism.  Anna's vision for Autism's Got Talent is to one-day see it held on a grander scale in a venue such as at Wembley.  
Tickets can be purchased by contacting Lisa Robins on 01895 619 736 or by email on lisa.robins@thevines.org.uk 
Getting a Proper Diagnosis 
Anna has a grueling calendar that takes her to every corner of the UK to bring more awareness to this condition.  In her travels, Anna notes that the further north she goes the less support is found for parents in this country. More needs to be done. She is a patron to 8 charities, has met with the Department of Health as well as an advisor to parents and carers. 
When asked what area is in need of the biggest change, she was quick to point out 'the diagnosis'.  Two years ago, 2,000 families participated in interviews about their experience with the diagnosis process.  The conclusion was an alarming average of 5 years to get a proper diagnosis for a child with autism.  In years gone by many adults would never have been diagnosed.  However, Anna would like this reduced to 6-12 months where intervention could make the path easier.  In Anna's experience she believes the reasons it takes so long can vary from combinations of any of the following:
Doctors are not experienced/trained in recognising the traits 
The long waiting times to see a consultant 
"Oh, he's fine…he's a late developer, just give him more time"
Teachers think the child is a trouble maker and needs to fit in 
Any of the above can leave a child feeling inadequate, often bullied, and the parents frustrated leaving the child to vent their anger at home, towards siblings and the rest of the family.  This "let's wait and see" attitude can have detrimental long-term effects on a child's development and self-esteem that could easily be prevented. 
Getting Advice 
Anna's journey has seen her 'plug holes' where they found gaps in the system that need to be filled as her children have grown.  After her sons were turned away from mainstream education that couldn't cater for their specific needs, she and husband Sean set up a school for autistic children – Hillingdon Manor School – that has 180 students.  Years later she has now also set up a community college for her sons, a respite home for adults and a second specialist school in Kent. 
With 'Anna Kennedy Online', her team has expanded to include a hotline number (details below) manned by Austin who himself has autism and knows all too well the daily struggle someone with the condition faces.  
Sean Kennedy provides legal support to families and schools to help facilitate children's schooling needs and educational development. 
Upcoming Events 
With a creative flair herself, Anna has lots of entertaining projects coming up.  This includes not just 'Autism's Got Talent', but a flash mob and a secret Father's Day event and many more.  You can follow her on Facebook and twitter. 
Advice to Parents with a Recent Diagnosis 
When asked what 4 tips she would give to a parent who's had a child with a recent diagnosis, here is what she said: 
Once you have the diagnosis, expect there to be a roller coaster of emotions even though you may have known for sometime your child maybe on the spectrum.
Do lots of research of what is available in your area. Don't isolate yourself and join a support group so you can chat to others on the best way to navigate the system. They will know the loopholes and best points of contact and you can share your thoughts with the group.
You may have to battle with the Local Authority so first try mediation. If this is unsuccessful then arm your self with the information and educate yourself on the education system. If this is too overwhelming speak to someone who knows their stuff.
Finally, enjoy your son or daughter. It's a difficult journey however there are some beautiful destinations along the way.
Useful Links 
Charity website www.annakennedyonline.com
Donations http://annakennedyonline.com/donate-to-ako/ 
Facebook https://www.facebook.com/Annakennedyonline 
Twitter https://twitter.com/AnnaKennedy1 
Helpline Number 07710 597 457 (Mon-Fri 9:30am-4pm)